How to Get the Best PBM Customer Service for Your Self-Funded Plan
Carrie Brown
•
July 16, 2021
When plan sponsors look at new partnerships for their self-funded pharmacy benefits, reduced spending isn't their only priority. In fact, it's customer service that is more important as it proves to be the key to an ongoing and successful partnership.
So how can you, as a plan sponsor, navigate the current complexities of the industry and find the best pharmacy benefit manager (PBM) customer service solution to meet your expectations?
Three Ways to Ensure Great Service
The fact is that the big three PBMs aren't known for their optimal customer service. Focusing on the following points will create the best balance and get better customer assistance for your self-funded plan. With this approach, you'll receive the outstanding service and valuable cost containment strategies you need without sacrificing care.
Partner with a purchasing cooperative like National CooperativeRx for PBM oversight.
Work with both the purchasing cooperative and the PBM customer service teams to maximize better plan participant resources.
Utilize the partnership to ensure issues are resolved and your plan design modifications are expedited.
Read on and take a closer look at the details involved in each step.
Partner with a Purchasing Coop – A Partnership That Makes Plan Sponsors the Priority
The relationship that a pharmacy benefit purchasing cooperative has with its PBM partner provides its member groups many benefits. It's an alliance that works together to deliver affordable self-funded pharmacy benefits with the best possible outcomes. It's also a partnership that offers a more integrated and consistent experience for plan sponsors. Ultimately, working with a PBM purchasing cooperative is about benefiting from two customer service teams with the one goal to help you manage your self-funded plan effectively.
National CooperativeRx Strategic Account Executive, Chris Schanz, explained that members could trust them to oversee their plans explicitly because they are owned and operated by members. He noted that because National CooperativeRx is a not-for-profit purchasing coalition, it prioritizes member needs over profits and concentrates on personalized service.
"It's a relationship that changes the dynamic of driving revenue. My sole purpose when I meet with a plan sponsor is to help them save money. And so, in that sense, I don't have any financial gains by having them put oversight programs in place."
Chris says that means he only suggests a program when he genuinely feels like it will help a member group or their plan participants save money. The goal is never just to put a program in place, especially if it's not the best fit.
He went on to say that having two customer service teams working on the same goal, project, or issue helps expedite resolutions. With a proactive approach, the organizations collaborate and create a plan sponsor experience where problems are resolved before they are even known to exist.
CVS Caremark, one of the big three PBMs, has partnered with National CooperativeRx since 2003. Lou Ismail, CVS Caremark manager of account management, said of the relationship, "It's not just a vendor relationship. We communicate very well through weekly meetings where we discuss innovative and strategic ways of assisting our customers. We also dive into the nitty-gritty of client needs and work very well as a team."
Work with Both Teams for Access to More Resources, Especially Those of a Big Three PBM
The benefits for self-funded plan sponsors that partner with a purchasing cooperative and utilize a large PBM are substantial. Large PBMs increase access to a wide array of services and offerings that they might not have had otherwise, including:
Maximized pharmaceutical purchasing power.
An integrated national network of pharmacies.
Educational options for plan participants, including articles, videos, and print resources.
According to Douglas Finney, National CooperativeRx strategic account executive, one of the reasons National CooperativeRx partnered with CVS Caremark is because of its reputation as a national leader in providing benefit management programs.
Because CVS Caremark is one of the largest PBMs in the marketplace, it can leverage its size in remarkable ways. In fact, their size impacts everything from negotiating better discounts from the pharmaceutical industry to making meaningful changes through their programs.
CVS Caremark has been a national leader in providing pharmacy benefit management programs. Today they service over 2,000 clients with 102 million members across all 50 states, Puerto Rico, and the Virgin Islands.
Strategic account executive for National CooperativeRx, Matt Dengel, couldn't agree more and mentioned the relationship with CVS Caremark continues to bring many positives to the process, including direct access to 68,000 pharmacies across the network. He said it also means having hundreds of clinicians available to review programs that can increase members' savings.
Utilize the Partnerships for Expedited Delivery with Sound Solutions and Improved Participant Satisfaction
Purchasing cooperatives have the bandwidth to respond quickly to the needs of member groups. Their dedicated and flexible teams can quickly navigate through each area within the PBM to find resolutions to issues. This type of nimble response would not be possible for an organization working directly with a large PBM.
See why strategic account executives from National CooperativeRx feel their partnership works to deliver the best support to their plan sponsors.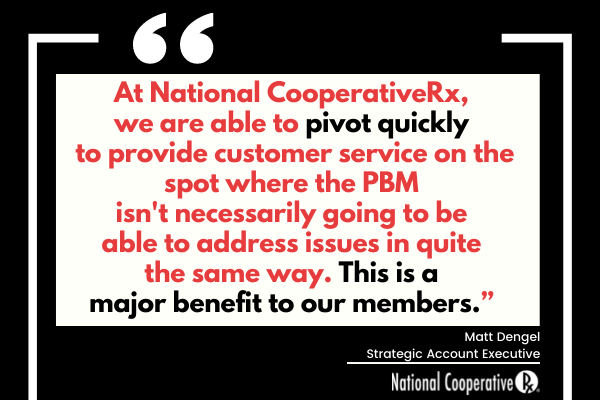 Purchasing cooperatives such as National CooperativeRx are also able to develop relationships with member groups that have lasting effects on plan participants. This comfort level and trust bring member satisfaction, as last year's member and partner satisfaction survey shows.
Overall Results Means Personalized Service with Plenty of Resources
The team at National CoooperativeRx works together with CVS Caremark to deliver affordable self-funded pharmacy benefits with their respective account teams working together as one.
While National CooperativeRx judiciously oversees the bottom line and provides continuous personalized service, CVS Caremark offers access to valuable and reliable resources. For self-funded plan sponsors, this partnership provides a more integrated and consistent experience for your members.
Ultimately, using a purchasing cooperative like National CooperativeRx that has negotiated an industry-leading PBM contract, means you and your employees get reliable, top-notch service. With it, your plan delivers excellent care, resources, and better outcomes. For all your self-funded plan efforts, that's pure gold! This is a cost-effective partnership that leads to actual results faster than any other strategy.
Guarantee the best customer service for your self-funded plan with National CooperativeRx, an affordable employee-owned cooperative designed by employers like you. Contact us today for more information.